ZGEL – a soothing first aid gel which is arnica based and suitable for bumps, bruises, grazes, bites  – and soothes any irritations and make those ouchies better quickly.
CHILDREN'S PLASTERS – sometimes a plaster is as much of as a reward as anything else!
STERILE WIPES – you can never have too many
MUCKY MITTS HAND SANITIZER – a spray for those mucky mitts which is made from natural products, alcohol free and there's no need to rinse after use.
FEVER FOREHEAD THERMOMETER  – as we all know our children can be fine one minute and have a raging temperature the next.
A 60ml MEDICINE BOTTLE with child resident cap – this enables you carry enough medicine for a day or weekend, it also complies with the travel regulations (under 100ml)
SPILLY SPOON, the non spill medicine spoon is an essential part of the Ouch Pouch as we all know administering Medicine is a messy job whilst in our home let alone whilst travelling!
THERMAL INSULATED BAG – the bag is unzipped in the middle and has two pockets which contain all the contents above but are also designed to hold sachets of medicine and your headache tablets!
EPI PEN – the Ouch pouch had been specifically designed to fit an Epi pen alongside all the above products.
We finally added a name label to personalise your Ouch pouch for use at nursery or school trips.
The ouch pouch is a practical product which contains everything you need whilst being out and about or travelling so your always prepared for your little one as we have all experienced a bump, graze or raging temperature and not being prepared with that magic remedy to make it better!
Child-Safe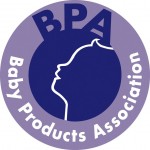 Everything about Ouch Pouch has been designed with safety in mind.
And that's why we've been approved by the most important safety bodies in the UK, including the Baby Products Association.
Designed by a mummy for mummies.